Oolio Group supporting Peter Mac Cancer Foundation: Making a Perpetual Impact
Aanchal Midha
Oolio Group, the home of market-leading POS platforms including Bepoz, Swiftpos, Idealpos, Deliverit, Ordermate, and Oolio, is honoured we are continuing our longstanding partnership with the Peter Mac Cancer Foundation. Our company is passionate about enabling the hospitality industry to do what it does best, and in doing so, Oolio Group is dedicated to making a positive contribution to society.
The Journey of Purpose
The formation of Oolio Group marks a significant milestone for the partnership between Bepoz and Pemba Capital Partners. This partnership has evolved; Idealpos, Deliverit, and Oolio were united with MSL comprised of OrderMate and SwiftPOS. The rationale was simple, all companies have a common purpose, and they share a vision to support the hospitality industry through technology and innovation. For over a decade, the companies within Oolio Group have chosen Peter Mac Cancer Foundation as their charity of choice. Oolio Group CEO Kris Satish has been passionate in articulating why Peter Mac has always been a primary charity of choice, believing that the organisation will make a difference in cancer research and foster a borderless and perpetual impact.
Although they need no introduction, Peter Mac is a leading cancer research, education, and treatment centre, dedicated to finding breakthroughs in cancer prevention, diagnosis, and treatment. By aligning with Peter Mac, Oolio Group stands at the forefront of advancements in the fight against cancer. It is a privilege and an honour for the team to be part of this incredible journey of hope and progress.

Run Melbourne: A Team Effort
On a sunny Melbourne day, July 16, the entire Oolio Group team put on their purple caps, flexed their muscles and came together to participate in the widely successful Run Melbourne event. A highlight on the Victorian running calendar, the event is a lot of fun, helps draw attention to the ongoing work of charities and brings people together. For Oolio Group, this event not only showcased the team's commitment to raising funds for Peter Mac but also exemplified the spirit of unity and determination to make a positive change.
Highlights from Run Melbourne 2023
Oolio Group's dedication to the cause extended beyond the efforts of individual members, with the company participating in a dollar-for-dollar matching campaign. This initiative amplified the impact of the teams' contributions, encouraging others to step forward and be part of the movement to support cancer research. The campaign received tremendous support from friends, families, and well-wishers who either ran alongside the team or generously donated to the cause.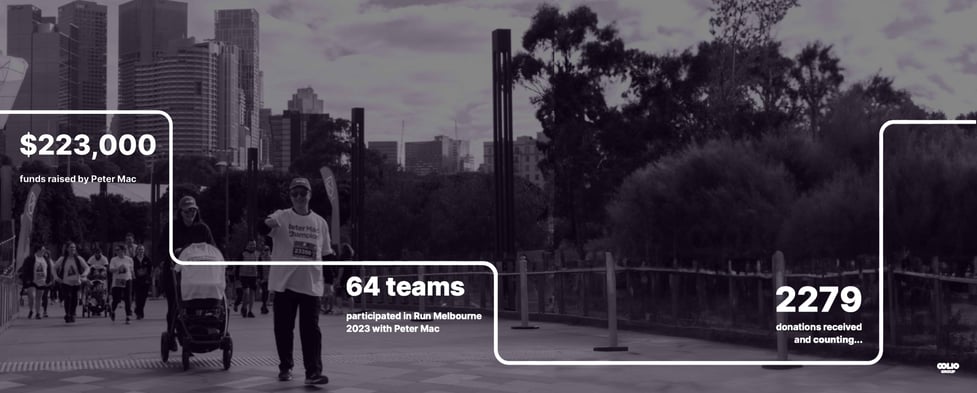 The charity run by Oolio Group for the Peter Mac Cancer Foundation stands as a shining example of corporate social responsibility in action and proof that our words are matched with action. With the team's united efforts and generous contributions, Oolio Group has reaffirmed their commitment to making a difference in the lives of those battling cancer. Through their long-standing partnership with Peter Mac, the team has demonstrated that by working together, businesses can be a driving force for positive change and perpetual impact in their communities.
As Oolio Group continues to evolve and grow, our purposeful pursuit of supporting cancer research will remain at the heart of our corporate and individual values, and we hope that our spirit of giving back to the community will inspire others to follow suit, fostering a future where compassion and determination lead to breakthroughs that shape a world free from the clutches of cancer.